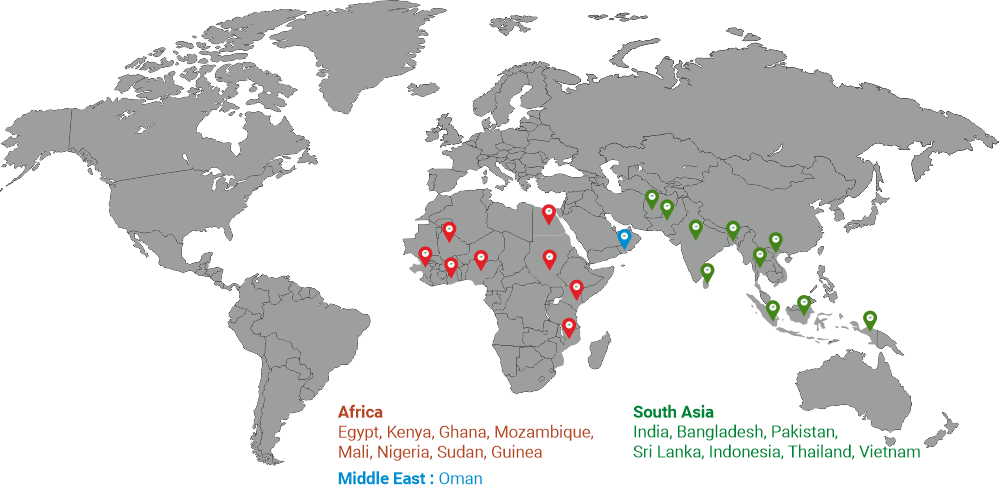 Wide-reaching expertise
JKAGL has a strong presence in South Asia and Africa, the portfolio includes Maize, Rice, Cotton, Millet, Sorghum, and Vegetable Crops.
The company is recognised for its large collection of germplasm, Quality Hybrids, Global Mandate R&D with End to End Supply Chain management.
Our collaborative approach to build long term business partners and associations with international organizations, has paved the path to serve many more territories.
Products we currently supply in Overseas Market:
| Field Crops | Vegetable Crops |
| --- | --- |
| Cotton (X-Gene) | Tomato |
| Corn | Okra |
| Rice | Brinjal (aubergine) |
| Jowar (Sorghum) | Hot Pepper |
| Millet, SSG | Gourds |
Solid Fundamentals
Large Collection of 'Germplasm'

High Performance Hybrids

R&D with global mandate

Registration trials in West Africa, ESA, South East Asia
International Affiliations:
   

Cotton Development Board, Bangladesh

   

Cotton Development Board, Kingdom of Eswatini

   

Ethiopian Textiles Industry Development Institute & EIAR

   

Agriculture Research Corporation, Sudan

   World Vegetable Center, Taiwan
   International Rice Research Institute, Philippines
   International Center for Maize and Wheat (CIMMYT)
   OECD Seed Scheme – for OECD Certified Seed Production

   

Michigan State University, USA
R&D program focus on catering key requirements of our overseas customers.
Experienced professional team
    i.   To handle overseas trial & registration programs.
   ii.   Well versed with International regulatory environment.
   iii.  Having 2 decades of experience in handling International Logistics.